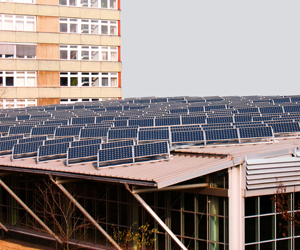 What is the best way to reduce your home energy consumption and improve your resale value of your home simultaneously?
NewHomeSource.com, the leading resource for homebuyers, conducted an online national survey to measure which green energy features have the greatest impact on home resale values. According to the survey, 40 percent of respondents said that solar panels have the greatest impact, followed by tankless water heaters (23 percent) and energy efficient appliances (18 percent).
There are many benefits to using solar panels in the home. They reduce the reliance on outside power providers, and the energy generated can often be sold back to the power company. Not only do solar panels save energy, but they can leave quite an impression on home buyers. Although homeowners often do not see a return on investment upon purchasing the solar panels, many builders are factoring the cost of the solar panel construction into their home. For example, Lennar builders are developing new 'solar communities,' where solar power is the main feature of the homes.
Don't stop there! You can also save a ton of energy by using tankless water heaters instead of large 50-60 gallon tanks. Plus, tankless heaters last twice as long as traditional tanks. These heaters are easy to incorporate in new construction, but may be difficult to install if your home is already built due to pre-existing gas lines.
According to the survey, Low-E windows and Icynene Insulation ranked as the least beneficial towards resale value. However, Low-E windows are gaining popularity. The glass in these windows reflects heat by utilizing a thin metallic coating in the glass. This coating helps reflect infrared light, which results in rising temperatures in the home.
Icynene Insulation allows homebuilders to construct more insulated and quieter homes. Icynene is a spray foam that expands as it dries. This allows small cracks, which would otherwise fill with moisture, air and heat, to be sealed. Although it was ranked last, according to Energy Star, a house that is properly insulated can save up to 20 percent on heating and cooling costs.
Want more green home features that can lower costs? Visit Atlanta Real Estate Forum for the latest information on Atlanta green building.