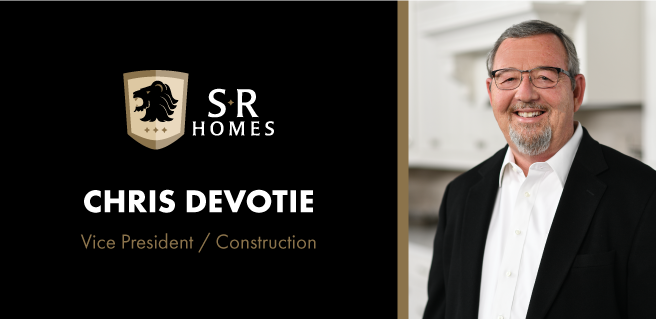 Local home builder SR Homes is pleased to announce Chris DeVotie as its new Vice President of Construction. As VP of Construction, DeVotie is responsible for leading and supporting the SR Construction & Warranty Department to ensure the highest quality of product is delivered to SR customers.
DeVotie brings more than 35 years of residential homebuilding industry and commercial construction experience to his new job at SR Homes. Having served in management positions for several local home builders and developers, DeVotie's experience includes working with DeVotie Construction, Paul Davis Systems, McBride & Son, Traton Homes and Monte Hewett Homes.
DeVotie offers unique experience in formulating strategic plans, providing vision, enabling solid connections to building processes and implementing programs to meet short-, mid- and long-term objectives. He possesses comprehensive knowledge of the Georgia Building Code, National Electrical Code, OSHA guidelines and scopes of residential and commercial construction.
With a record of delivering exceptional results in demanding environments, DeVotie's career is supported by extensive experience and training courses including Cross-Functional Leadership, Profit/Loss Management, Vendor Sourcing/Negotiation, Production Control, Quality/Safety Management, Client Relations, Training/Development, Value Engineering and OSHA/EPA.
Currently, SR Homes has six active new home communities in sought-after, highly ranked school districts within Forsyth, Fulton, Gwinnett and Oconee counties. With a reputation for designing homes for livability, SR homes are built with superior-quality materials and feature distinctive exteriors, impressive interiors and thoughtful outdoor living spaces that reflect the way families and individuals live today.
To learn more about new Atlanta-area homes from SR Homes, visit www.SRHomes.com.