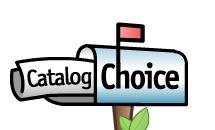 How much unnecessary mail do we end up with in stacks on the kitchen counter? Most of it doesn't even get read…it just clutters the house, collects dust and gets in the way until we get around to putting it in the trash. Now, thanks to Catalog Choice and retailers, we can alleviate the clutter in life by stopping unwanted mail.
In 3 easy steps you can make your life more green-friendly:
Fill out the online registration form, including your primary mailing address (only used to have appropriate mail stopped)
Find and set mail preferences for catalogs. They contact the providers to request your mail preference.
It can take up to 12 weeks to process your request and for you to stop receiving catalogs.
This program is designed for continued use and as a registered user, you will discover features related to managing catalogs at multiple addresses adding new catalogs to our database and other ways to go paperless.
Benefits to going paperless:
reduce mailbox clutter
lowers merchants costs of distribution
positive impact on the environment, reducing energy consumed, carbon emmissions, lost forests resulting from production and discarding of unwanted catalogs.
Participating Catalogs include:
Abercrombie & Fitch
Ann Taylor
REI
UncommonGoods
Early Advantage
Imagine the trees, energy and waste saved if you stop getting your unwanted mail…join the craze to go green and make your life clutter free!