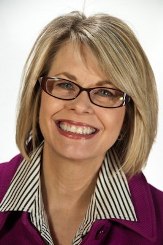 Navigating the world of green building can be intimidating: ENERGY STAR appliances, insulation ratings and materials, double or triple paned windows, low VOC materials… the list goes on and on.
To wind your way through these issues, you need the help of a Green Designated REALTOR®. If you're in the Atlanta, Georgia area contact Meg Thompson of Meg & Co. Meg recently received the National Association of REALTORS® Green Designation.
The Designation is an obvious step for a person who already implements so many environmentally-friendly policies in her office. Some of those include:
Encouraging clients to participate in EarthCraft building standards
Using ENERGY STAR appliances
Multiple recycling bins in sales centers
Responsible recycling of electronic devices
Keeping documents electronic as much as possible and making double sided copies when printing
Conducting meetings online if appropriate
Meg was trained on green homes, buildings and sustainability issues. She also learned to guide clients through the components of a green home, costs versus benefits, rating systems, green marketing and financial incentives for building or remodeling green.
If you are in the Atlanta area and looking to buy or sell a green home or commercial building, be sure to contact Meg Thompson at meg@megandco.com.