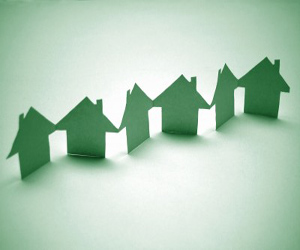 It seems like everyone these days is green or is talking about going green, but you have to stop and wonder if being eco-friendly is just another fad? According to recent data from the U.S. Green Building Council, it looks like green may be here to stay.
The total footprint of LEED (Leadership in Energy and Environmental Design) certified commercial projects has now surpassed two billion square feet, and an additional seven billion square feet worth of projects are in the planning stages. In addition green building is projected to support or create nearly 8 billion jobs between 2009-2013 and contribute $554 billion to the U.S. gross domestic product.
Many buildings, both old and new, are installing roof gardens, systems that recycle water and heating, solar panels and drought-resistant landscaping. In addition, the green trend has spread to now include whole communities with the new LEED for Neighborhood Development program.
And while the eco-friendly way of building may have benefits for the environment and our wallets, it also has a positive impact on our day to day lives. Many employees are demanding healthier work spaces and actively choosing to work for companies located in green buildings. In addition, improved indoor environment quality has contributed to healthier employees and reductions in absenteeism, according to a study in the American Journal for Public Health.
With all of this positive news for the green building industry, we want to know how being energy efficient and eco-friendly is impacting your day to day life? Let us know in the comments section below!