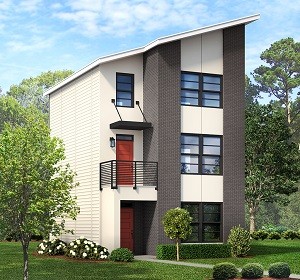 Van Hardimon Homes has high standards for its homes at Westside Crossing as it relates to energy efficiency and air quality. Because of this, all of the homes in this intown Atlanta cluster are EarthCraft House Certified. EarthCraft House, a certification program created in partnership between SouthFace Energy Institute and the Greater Atlanta Home Builders of Atlanta, is designed to work with the Southeast climate to maximize each home's performance, efficiency and comfort while also reducing the its overall impact to the environment.
Van Hardimon, President of Van Hardimon Homes states, "EarthCraft homes save homeowners about 30 percent on their energy bills when compared to similar homes that use standard construction methods. This is huge for homeowners who are budgeting because it saves them money on energy that they can then spend on other things."
EarthCraft House builders use above code building requirements to enhance the home's performance. These homes are built to provide healthy indoor air quality, use fewer materials and incorporate building practices that benefit the environment and maintain comfort through well-built and well-insulated homes.
In addition to being energy efficient and environmentally friendly, the Westside Crossing cluster features Smart Homes. Standard Smart Home features include a WiFi Garage Door Opener, Two video doorbells, Two WiFi Hubs and more.
Westside Crossing community offers contemporary style, single-family homes in Westside Atlanta. Inspired by modern art, these unique vertical homes provide an intown living option that is affordable, convenient and sustainable. The homes vertical designs results in a smaller plot of land and a smaller home, but still offers plenty of well-planned space for its residents that is both comfortable and livable.
Home plans for Westside Crossing start at $319,900 and include 1,608 square feet of living space consisting of three bedrooms, three-and-a-half bathrooms and a 1-car garage. The home features beautiful hardwood floors throughout the home, quarts countertops in the kitchen and bathrooms, a front porch balcony, a rear roof top deck and plenty of natural light. The unique architecture and bold colors of the home create a modern look that perfectly complements and reflects the local intown area.
Located at Hollywood Road and Perry Boulevard, Westside Crossing is northwest of Midtown, which is known for its hip and trendy vibe, as well as its convenience to the shops, restaurants and events in downtown. As you head east on Perry Boulevard, the street changes into Marietta Street and takes you straight into the heart of the city.
For those looking to get out into nature, several parks such as the new Westside Park, Whittier Mill Park and Chattahoochee Park are located nearby. Additionally, there is a bike lane in front of the houses that takes you directly to the Proctor Creek Greenway Trail.
Construction is progressing quickly, and Westside Crossing will begin welcoming its first residents in early August. The last few homes will sell quickly, so make sure to take advantage before it's too late! For more information about purchasing a home at Westside Crossing, call Van Hardimon Homes at 404-419-6640, or visit their website at www.vanhardimonhomes.com.