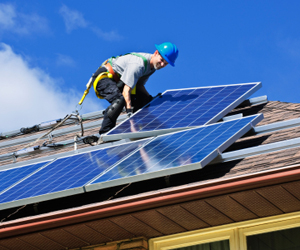 We are down to the last few days to save on taxes by purchasing energy-efficient upgrades, so don't delay. The tax experts at the Equifax Finance Blog point out just what it takes to earn the federal tax credits and offer more great tips, as well!
On December 31, 2013, the legislation that gives homeowners a federal tax credit expires so be sure to go out and purchase any energy efficient windows, water heaters, air conditioners, heat pumps and insulation before then. Many cities and states also offer tax credits to homeowners who make energy-efficient home improvements, such as dual-paned windows, solar-powered systems and tankless water heaters. Just like the federal tax credit, you don't need to have everything installed, but you do need to make the purchase before the year ends and let Uncle Sam finance your future energy savings.
These upgrades can make your home both look and feel better, but also save you on month-to-month upkeep and, if you are considering upgrades for putting your home on the market in 2014, can add to your curb appeal. After all, homebuyers love saving money and will value your investment to help them decrease energy costs. Best of all, upgrading now rather than waiting means you get to enjoy the savings, too!
The full article, "Five Real Estate Tax Tips You Should Know Before 2014" has many more ways you can save on your 2014 taxes, but you better act fast! The Equifax Finance Blog has more information about how to go green and save green, as well as key information on credit scores, retirement planning, budget balancing and much more.