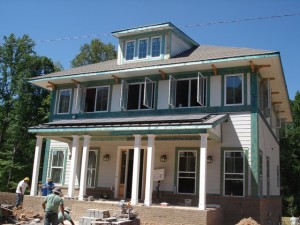 The Brock Built Green House is just about complete. We have some updated photos for your viewing pleasure. I think it's time we take a minute to recall exactly what this extraordinary project represents.
First off, it represents many donated hours of labor and donated products. There is no way we can say thank you enough to all of the vendors that have helped make this charitable dream a reality. This one project really illustrates how the Atlanta community comes together to support a great cause, and Children's Healthcare of Atlanta is one of the BEST causes around.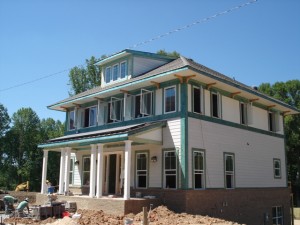 That's another thing the Green House represents is a sizable donation to Children's Healthcare of Atlanta. In a couple months time, this environmentally-friendly house will be auctioned off to the highest bidder with all of the proceeds benefiting CHOA. Operating three hospitals with more than half a million patient visits annually, Children's is recognized for excellence in cancer, cardiac, neonatal, orthopedic and transplant services, as well as many other pediatric specialties.
And, of course, the house is a perfect example of green building trends. The home was constructed with every green feature and option available, in an attempt to spread awareness for the green building trend and all of the available green products. With a location in an award-winning community by Brock Built, West Highlands, the Green House is a beautiful, earth-friendly home that represents the Atlanta homebuilding industry well.