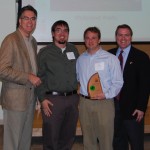 A huge congrats to Frank Wickstead and WicksteadWorks, the 2009 EarthCraft Renovator of the Year.
The award, given by Southface and The Greater Atlanta Home Builders Association, distinguishes an EarthCraft House renovator that has gone above and beyond to reduce energy use in an existing home. The annual awards program honors the leading builders, developers, renovators and manufacturers dedicated to protecting the environment through sustainable design and construction of homes, communities and products.
WicksteadWorks is an Atlanta remodeler that builds to a minimum standard of EarthCraft certification on all projects.
The EarthCraft House program is a voluntary, green building third-party validation program that serves as a blueprint for healthy comfortable homes that reduce utility bills and protect the environment.  Since the program's inception in 1999, more 450 builders have become builder members, and more than 7,150 homes in the Southeast region have been certified to EarthCraft House standards.