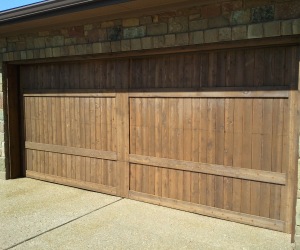 Sterling Custom Homes has been dedicated to developing and refining its custom home processes for more than 20 years. The attention to detail put forth by the Austin home builder has most recently led to a new technique that gives driveways a beautiful and unified finishing touch.
"So many times it doesn't cost any more to implement a change like the driveway/garage apron improvement," said Vick Pope, vice president of construction at Sterling Custom Homes. "It only requires the desire to constantly improve, and the mindset that never accepts things as the way they've always been done."
In other methods of construction, driveway material is poured only to the exterior of the garage apron. leaving an exposed joint where the driveway meets this foundation. The driveway and foundation are often made with two different finishes, which throws off the driveway's continuity. This exposed joint is seen when the garage door is closed.
Sterling Custom Homes' new and improved process leaves garages and driveways with a seamless flow from the driveway to the foundation of the Austin luxury real estate.
During this process, the builder drops the foundation at the garage apron and allows the finished layer of driveway material to end where the garage door meets the concrete. This method gives the two a seamless flow and a professionally finished look.
Sterling Custom Homes understands the importance that new home buyers place on detail, and demonstrates the level of care it takes to design custom homes to suit individuals' needs. The builder offers design solutions for all buyers from site selection all the way down to details like driveway construction.
For more information about Sterling Custom Homes, visit their website.