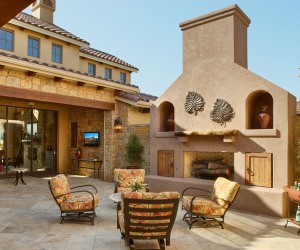 For more than 20 years, luxury home builder Sterling Custom Homes has been helping its Austin area clients design unique floor plans by adding several different types of custom home features. Whether you want to create a home that will blow your friends and family away with that wow factor or just need some extra space for entertaining this spring, you'll love what Sterling has to offer.
If you're looking for a place to house your overnight guests, then adding a Guest Casita when constructing your new home may be the right option for you. Located on the main level of a house and accessed by an outside entrance, this custom home addition gives your guests extra privacy and comfort.
Homebuyers who need play space for their children (or for themselves) will love the combination media and game room. It's a versatile room that allows homeowners and guests to mingle between two spaces, usually divided by a heavy theater curtain.
One of the most popular rooms in the new homes in Austin built by Sterling Custom Homes is the outdoor living space. It's a viable space all year long because the temperature can be regulated by misters and heaters; and it provides an area where homeowners can relax, enjoy beautiful weather or entertain.
These are just some of the many custom home options offered by Sterling Custom Homes. For more information, visit the home builder's website.