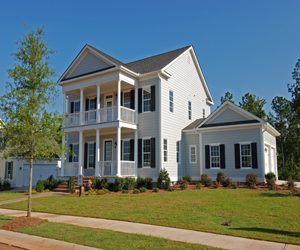 If potential new home buyers are a little nervous about jumping into the real estate market and applying for a mortgage, it's understandable. With all the talk about stringent lending standards and the gaffs major lenders have been making, it's hard to know where to start.
The truth is that several programs were available to help before all the madness began, and they're still available to homebuyers today. "
Zero Down Home Loan Options,"  an
Equifax Personal Finance Blog post by real estate expert Ilyce Glink, offers links and information on several of those programs.
For veterans who served at least 90 days during wartime and at least 181 continuous days in peacetime (and didn't receive a dishonorable discharge), VA loans are a good option. They are backed by the government, and they allow veterans to finance up to 100 percent of the purchase price of their primary residence. The VA sets price limits for each county, and the property must fall within those limits.
Programs are available to non-veterans, too. The USDA Rural Development Direct Loan program is another way to buy without a downpayment. Again, there are location requirements, but you might be surprised at how many eligible "rural" properties are close to seemingly urban locations. There's an income ceiling, based on the average median income where you're purchasing. For this loan, the requirements state that borrowers must be unable to get credit elsewhere, though they still must have a decent credit history.
For HUD homes in FHA foreclosure, you can get into a home with a downpayment as low $100 through FHA's $100 Down Payment Incentive program. Other HUD programs also offer low down payment options, ranging from zero to $1,000 down.
If you are buying your first home, there are lots of extra opportunities just for you, many of them managed locally. Glink recommends using your favorite Internet search engine to narrow down the "first time home buyer down payment" options for your city name.
The
Equifax Personal Finance Blog offers links to information on the VA, FHA, HUD and USDA programs. As intimidating as home loan shopping may seem, there's plenty of help and information available to ease the process. Take advantage of it before today's low interest rates are history.