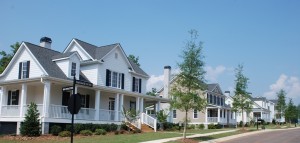 Greater Valley Group has taken initiative when it comes to making their homes more energy efficient.
Currently the developer is building several new communities near the West Point, Ga. Kia plant. The Quail Run community has added two standard green features into their master-planned community.
Cellulose Insulation: Cellulose is a great, environmentally friendly material. This product is green from the beginning by using recycled newspaper and phone books as raw materials. The output of pollution is negligible and provides minor, if any, irritation during installation. Cellulose installation is available in many forms, but all are extremely eco-friendly.
Energy Star Whirlpool Appliances: Whirlpool has been committed to the Energy Star program since 1998 and has been honored multiple times for being a socially responsible company. They have a range of Energy Star Appliances, most popular though are the dishwashers and refrigerators.
GVG's Quail Run community is truly beautiful and exemplifies Southern charm. If you are interested in learning more about these homes, visit www.gvghome.com.