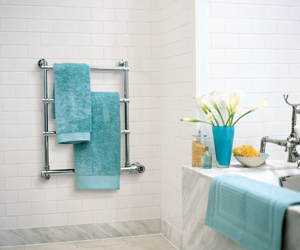 Remember when your mom would remind you to turn off the water while brushing your teeth or to turn off the lights when you exited a room? She wasn't doing those things just to nag you. It turns out that mom actually cared about wasting resources. The people at Mr. Steam obviously had very caring mothers, and it shows in the eco-friendly products that they develop. All packaging is made from 100 percent recyclable materials. And once you take your new home steam generator out of the box, you'll be happy to know that it is made from recyclable stainless steel.
If your mom was worried about the water wasted from one teeth-brushing session, imagine how she'd feel if she knew how long it took you to shower! While spending 20 minutes in a multi-headed shower after a long day at work may feel relaxing, it is also a huge resource drain.  A shower system with dual shower heads and three body sprays can consume 160 gallons of water per use, compared to two gallons from a steam shower. Combine that with all the health benefits associated with steam therapy, and you can enjoy the luxuries of a steamroom while using a product mom would be proud of.
But why stop there? Mr. Steam also provides towel warmers and several packages that combine color, scent and sound to give you the full experience of a home spa. So if you're looking for an eco-friendly luxury with products you can feel good about, visit the Mr. Steam website.