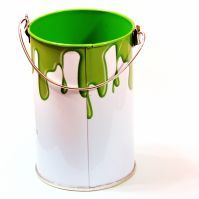 You buy it in excess because you don't want to be caught without it in the middle of a home improvement project. You have cans of it sitting in your garage for touchups or because it's a "limited edition." What is it you ask? Latex paint.
Americans consume more than 1 billion gallons of paint every year, and in many cases, the leftover paint from projects is still usable. Recycling this latex paint is now an affordable and sustainable alternative to sending it off to a landfill. It's also the hottest new green design trend.
Specializing in fine wall finishes, California-based Metro Wallworks is the first company to launch a line of recycled paint. The new line of recycled paint consists of 15 colors and holds many advantages over buying virgin paint. In fact, using one gallon of recycled paint is the equivalent of saving 100 kilowatt hours of energy that would otherwise have gone into producing virgin paint. Recycled paint is generally acknowledged to be much cheaper than buying new latex paint.
But how is the paint recycled and is it of the same quality as what you buy from the store?
In order to begin recycling, filterable solids are removed from the paint. Most paint is then mixed with new standard paint, creating a 1:1 ratio of recycled to new paint. However, some paint is completely recycled without adding new paint. Pigments are then added to create the new color and the pH is adjusted. This new recycled paint is the same quality as virgin paint, just more environmentally conscious.
To learn more about Metro Wallworks line of recycled paint, visit their web site.