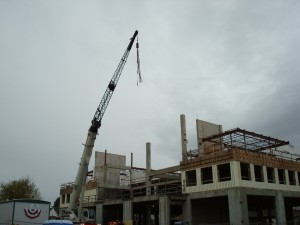 As Independence Station progresses they form more and more partnerships with green companies that aid them in their quest to become the world's greenest building. Recently, the green developers announced that they chose CALMAC's IceBank® Energy Storage System for eco-friendly cooling of Independence Station.
The ice storage technology from CALMAC was chosen to be a part of the overall HVAC system to offset energy usage during peak demand hours. The system is simple, ice made during off hours is used during peak hours so the building can run off grid. During the peak demand period the building will operate on power produced by biodiesel generators and cooled by the ice storage plant. This alternative saves costs by minimizing expensive electricity demand charges.
The green building will be so energy efficient that excess power generated by the 125 kW photovoltaic system will be sold back to the utility, thus helping the utility meet peak demand load. At night, the computer based building management system will decide when to shut down the generators and start making ice.
Independence Station's goal is to be a net zero energy building by using Smart Grid technology, with CALMAC's IceBank Energy Storage at the heart of the cooling system.