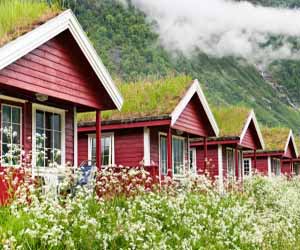 Although only a small percentage of U.S. homes have a green roof, the green roof market grew 115 percent in 2011. For example, Washington D.C. announced that for the first time the city has more than 800,000 sq ft. of green roofs installed, making it the top ranked market for green roofs for 2011.
"This is evidence that the District is moving toward my vision for a sustainable D.C. and will lead the nation in implementing green practices and growing a green economy," said Washington, D.C. Mayor Vincent C. Gray. "We are fully committed to being number one again next year."
However, for the past decade, Chicago, still remains the top green roof leader among metropolitan areas, with over five million square feet of installed green roofs.
Components of a green roof include layers of protected membranes and soil medium, and planted with any type of vegetation such as grasses. Advocates say the benefits of added insulation for buildings, increased energy efficiency and better stormwater management outweigh the costs.
In addition, green roofs contribute to cleaner air, reduce stress off sewer systems through stormwater retention and help reduce the heat island effect that urban areas experience.
Green Roofs for Healthy Cities (GRHC) is an association that promotes the development of green roofs and walls. "We are definitely beginning to see results from policy support that has increased over the past few years," says Jeffrey L. Bruce, chair of GRHC. "The industry is also benefiting from the more than 500 accredited green roof professionals (GRPs) in the market, who are committed to driving future industry growth."
"As awareness grows on the multiple benefits of green roofs and the success of the industry, more homeowners will recognize green roofs as investments that will pay financial and environmental dividends," said Paul Erlichman, membership coordinator for the association. "At a larger scale, an increasing amount of policies such as Toronto's Green Roof Bylaw will require that developers use green infrastructure principles in their projects. Certainly, the further development of these policies will make our cities greener and drive the residential green roof market."
For more information on  Atlanta green building visit Atlanta Real Estate Forum.