The Chicago real estate industry is getting a new high-rise that will fill two popular needs in the city right now: Green building and rental opportunities.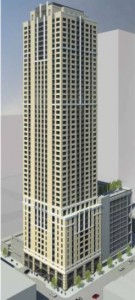 With homeownership at historic lows, many residents in Chicago and around the nation are turning to rental properties for living quarters.
Developer AMLI Residential broke ground last week on a luxury 50-story apartment tower in downtown Chicago that will be built for LEED Gold Designation and designed as part of Chicago's Green Permit Process.
The high-end AMLI development will include lots of luxurious features, including a pool, fitness center, theatre room and in-unit floor-to-ceiling windows that provide natural night and beautiful city views.
The building will also include a no-smoking policy in which offenders found lighting up anywhere on the property, including in units, will have to send $250 to the American Lung Association.
Want to find out more about this pet-friendly residential tower, including its green features and expected completion date? Check out our story:
Construction Commences on Chicago Luxury Tower
and then check back to Chicagoland Real Estate Forum for updates on this exciting project.