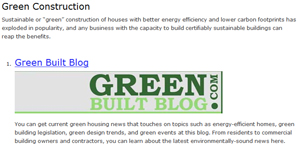 ConstructionManagementDegree.com recently compiled a list of the 'Top 100 Construction Sites on the Web,' and Green Built Blog came in at no. 1 in the Green Construction section. The Green Built Blog keeps consumers and builders alike up-to-date with the latest green housing news. Their articles often feature builders with green programs and incentives for green retrofits as well as information about the latest green trends and communities.
ConstructionManagementDegree.com is an online resource that was created in 2010 for students considering a career in construction management. The site compiles comprehensive lists of campus and online degree information for those considering this career path as well as offering them an unbiased database to find articles, information and trends in the construction management industry.
The Construction Management Degree website describes the Green Built Blog as a place, "You can get current green housing news that touches on topics such as energy-efficient homes, green building legislation, green design trends, and green events at this blog."
They comment about the Green Built Blog further by saying, "From residents to commercial building owners and contractors, you can learn about the latest environmentally-sound news here."
Check out the Green Built Blog online today and see why it has topped the 'Green Construction' section of the Top 100 Construction Sites on the Web.
For more information on green Atlanta new homes, visit Atlanta Real Estate Forum.