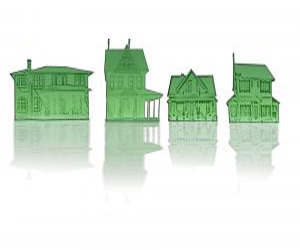 So you are a green builder. Are you this green?
The Equifax Personal Finance Blog
recently reported on a home at the University of Hertforshire, UK, that is just 3x3x3 meters. That's a few inches smaller than 10'x10'x10'.
Called the Cube, the home is designed with all the furnishings one person needs. In addition to a kitchenette, table, two chairs, lounge and small bed, it contains a full sized shower and a composting toilet.
Among the home's many green features are LED lights, an air-source heat pump, and an energy-efficient fridge. Plus, with the use of solar photovoltaic panels, it produces at least as much energy as it uses. To see the home and read about its additional features, check out the full article, "
The Cube Project: What Would You Give Up To Live In A Tiny House?"
For a true green builder, this may be a dream house. But for the rest of us, it's a little far fetched. Many demonstration projects go to extremes to show all of the things that can be done, while working home builders are faced with trying to build green within real-life budgets and real homebuyer preferences.
After you've seen the article at the
Equifax Personal Finance Blog, come back here and tell us if that project gives you any ideas you can use now. What will help you as a green builder incorporate more environmentally friendly components into your next home?