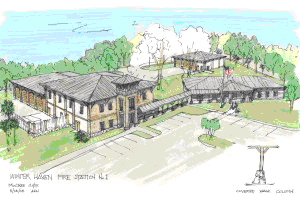 Residents of Winter Haven are a lucky bunch. Not only are they the benefactors to a brand new fire station, but the Winter Haven fire station is also LEED certified.
While firefighters are there protecting the people of Winter Haven, Winter Haven is protecting their environment. Preservationists will be especially happy to heard the new fire complex was designed to preserve large established trees currently on the site. Many other factors go into making the structure LEED certified. Residents look forward to learning more about the building's green qualities as construction continues.

Even though the fire station is the city's first "green" structure, Winter Haven is already familiar with sustainable living. Highland Homes, a Florida home builder who has several locations in Winter Haven including Mandolin, Crescent View, Normandy Heights, Lakeside Landings, Brenton Manor and St. James Cross, believes in green building.
Highland Homes offers special incentives to their buyers who purchase options at their personal selection studio that are considered green.