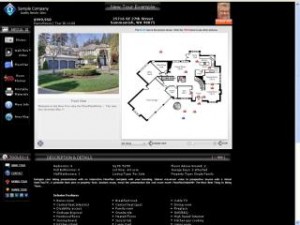 The search for the perfect home can be daunting. Potential homebuyers troll the MLS listings looking at properties in the perfect location. They browse the blurry and often poorly shot photos, squinting and tilting their heads at the screen to judge the true size of the living room. Then, after they note the addresses of what seem like fantastic homes, they'll call up their real estate agent to go for an in-person visit.
And they'll probably be disappointed.
Crude photos and simple floorplan sketches can waste the time of the busy homebuyer. That's where FloorPlanOnline comes in. The company's service provides not only the layout of the home, but also beautiful, crisp, detailed photos that are easily accessed from the floorplan. Not only is the "virtual tour" a great tool for consumers, agents can utilize search engine optimization and an analytical program to optimize search placement and measure results.
FPO Version 2.0 was recently announced, which adds greater customization abilities and media options. A WalkThru(TM) video component has been added as well as a Room Planner where users can drag and drop furniture.
A 2009 study from the California Association of Realtors showed that 20 or more photos online reduced the time a home is on the market by 50 percent. In a competitive real estate market, FloorPlanOnline is a great tool to leverage.