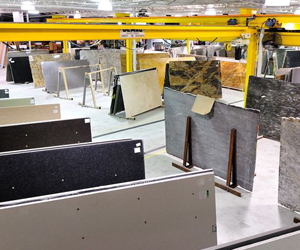 On May 11 and 12, Construction Resources will host a huge sales event at its showroom and indoor slab gallery at 224 Rio Circle, Decatur, Ga. 30030. While there will be a wide variety of their kitchen and bath products on sale, environmentally-conscious buyers will be most excited to hear that there will be special deals on Cambria quartz and Vetrazzo recycled glass countertops.
Cambria quartz countertops are the only domestically produced quartz surfaces and go through an extensive recovery and recycling of water used in the production process. This results in greatly reduced water loss. Combined with the lack of carbon footprint from having to ship the countertops internationally to reach the slab gallery, it is one of the most ecologically-friendly surfaces on the market. During the sale, all Cambria products will be 15 percent off and all quartz remnant inventory will be $10 per square foot.
Vetrazzo recycled glass countertops will also be featured in the sale. These 100 percent recycled glass counter surfaces join the wide array of other brands on sale, including Artisan Stone Collection, Kohler, Saratoga Soapstone, Heritage Wood, Caesarstone, Silestone, Corian, Zodiaq, Shaw, HiMacs, Viatera, Dal Tile, Artisan Sinks, Coastal, Closet Maid, Atlanta Marble Mfg. and Mohawk.
You won't have to worry about missing a deal across the huge 13 acre facility, as there will be a shuttle to run guests from the indoor slab gallery, slab yard and other buildings. You can explore all over to find more than 3,000 granite and quartz slabs with hundreds of colors, styles and sizes to choose from. More than 30 experienced Construction Resources Project Managers will be on site to assist with your selection process.
Make sure to mark your calendars for this event on May 11 and 12! For more information about Construction Resources and the products on sale, visit their website www.constructionresourcesusa.com.