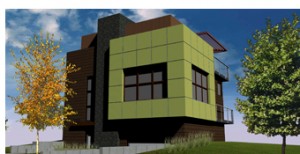 Urban Green Development is proud to announce the groundbreaking of Denver's first LEED Platinum single family home to be built in the NW Denver's Highland neighborhood. "The Green Cube Showhome" has received a LEED Platinum level classification from the US Green Building Council, the highest level of green sustainable building. The project is looking for qualified Green Industry partners to showcase their products.
About the Project:
Project Location: 3310 Shoshone St in NW Denver
Owner / GC: Urban Green Development
Project Goal: A fundraising project to showcase and network sustainable building contractors and green suppliers.
Background: Being built in one of Denver's "hot spot" building neighborhoods, NW Denver's historic Highland area, "The Green Cube" will be the city's first LEED Platinum single family home, the highest sustainable/built green rating possible. When complete the home is expected use just 40% of the energy of a code built home.
The home is scheduled to open in late fall off 2011 as a Green Built Show Home in conjunction with U.S. Built Green Council, and will be featured on the DIY Network throughout the process. The home will bring together area contractors, suppliers using sustainable and reusable products as well as serve as a fundraising project to support an annual scholarship fund enabling North High students to pursue careers in the Green Building Industry. When complete the Show Home will host tours, open houses, seminars and special events all raising money for North High career scholarships.
The Show Home will host 3,000-5,000 trade professionals and consumers during the month of July 2011 The project offers the opportunity to partner and network with the nearly 100 green trades, suppliers and services required to build the home from start to finish. Please contact Brett Robben at 303-433-6212 or email brettrobben@comcast.net