More Chicago real estate is striving to be eco-friendly these days, and one of the latest parcels to achieve the green certification happens to be an apartment building.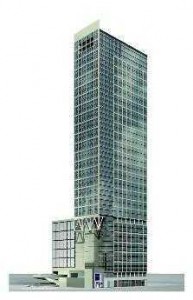 215 West, located at 215 W. Washington St. in downtown Chicago, is the first rental residence to be built in the Loop in the last 15 years and is one of the city's only high-rise apartment buildings to be developed for LEED certification.
The 50-story tower was constructed with energy, lighting, water and material use in mind. As a result, residents will see lower utility bills while leaving a smaller carbon footprint on the neighborhood.
The pet-friendly building has amenities as well, with a fourteenth floor that rivals country-club living.
The building was recently awarded the LEED Certification by the U.S. Green Building Council and the Green Building Certification Institute.
Want to learn more about 215 West and its amenities? Check out our stories at ChicagolandRealEstateForum.com:
Loop Chicago Real Estate Designated Green
Green High Rise in the Loop Ready for Renters and Their Furry Friends
In the latter, you'll find out upon what historic site 215 West was developed.