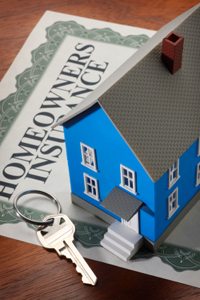 Homeowners insurance costs are not determined by the home values used by real estate agents and taxes. But with the home sales market edging up, is there any opportunity for cost savings with homeowners insurance? Perhaps; but only if you make it work for you, according to Equifax experts in the new article, "
Does Home Value Affect Homeowners Insurance?"
It all comes down to how homeowners insurance costs are determined; these costs are set according to how much it would  cost to replace and rebuild your home; not comparative market value, or the price at which other comparable homes are selling for in your area.  Where real estate agents and tax assessors determine value from recent sales and changes in the marketplace, homeowners insurance companies determine value using the description of your home and the items you choose to insure within. With building costs up on average two percent nationally and frequent updates to building codes requiring additional steps to take in new construction, a reduction in homeowners insurance costs probably isn't in the cards unless you make one.
So now is the time to check in with your insurance agent and find out if there are any deductions you are missing, or if there are any special incentives or cost reductions you can take advantage of with relatively minor home upgrades. Voluntary energy efficiency and safety upgrades are often available, and the one-time cost of purchase and installation of these options can save you much more over the long run.
To learn more money management tips, including real estate and
identity theft statistics, check out the expert advice from Equifax!