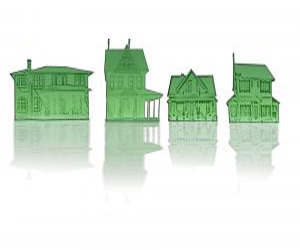 Do you want a home with the following features?
Environmentally sensitive site plans to preserve trees and natural terrain
Soil and erosion control measures on site
Recycled soils from the site used in underground pipe trenches
Ecologically friendly storm water management
Water saving toilets
Water saving shower heads
Cabinet boxes made from ecologically friendly furniture board
0SB floor, wall and roof sheeting made from processed wood of new growth trees
Engineered roof trusses to reduce structural roof members
Manufactured structural beams to preserve old growth timber
Energy efficient windows with Low-E / Energy Star
Energy efficient entry doors with foam insulated core
Window installation caulked and taped for energy efficiency
92% efficient furnace
13 Seer efficient air conditioner
Water heater with energy saving back flow preventer
Foam exterior wall sheeting
Corners and floors sealed for energy savings
Energy barrier house wrap
Insulated basement walls
Environmentally friendly Puron refrigerant in AC units
Insulation with reduced off commission
Energy star compliant dishwasher
Recycled carpet padding
Homes built to the international energy compliance code
If you said yes to one or more of any of these features and en you want a Gerstad Home. The premier McHenry county home builder, Gerstad is dedicated to building quality homes that will save you, the homebuyer, money over time. Come visit one of our many new home communities throughout McHenry County, Illinois (Liberty Trails, The Trails of Dawson Creek or The Trails of Pheasant Ridge) today to learn more about why so many have chosen to call Gerstad their McHenry County Builder of choice.
For more information about any of these new home communities, visit the Gerstad website today!