Traditional paints are now widely known for their toxic properties. Painting your walls and ceilings with these kinds of materials will introduce harsh chemicals into your home. As indoor spaces rarely receive proper ventilation, dangerous fumes can easily linger in your interior air for years to come. Such toxins can be the culprits behind headaches, fatigue, dizziness, asthma, heart disease, and cancer. So if you're looking to spruce up your walls this spring, don't put your family's health in danger. Instead, consider natural clay plaster as a healthier and more eco-friendly alternative.
Unlike typical paints, which are laden with volatile organic compounds (VOCs), natural clay plaster is safe for interior painting. Clay plaster is made from pure, naturally-occurring clay. It comes in a wide variety of earthy tones, and its pigmentation is derived from completely natural oxides and ochre minerals.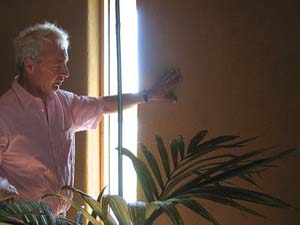 Natural clay plaster is an excellent choice for your health-conscious and eco-friendly home makeover. It's completely natural benefits include:
Improving your indoor air:
In our modern world, we can't avoid filling our homes with dangerous electromagnetic-emitting appliances, electronics, and synthetic plastics. Fortunately, natural clay plasters release negative ions, which neutralize the air. Biochemical studies have also shown that these negative ions have the capability of raising serotonin levels, which can help you and your loved ones better manage stress, depression, and midday fatigue.
Preventing mold:
Natural clay plasters contain the naturally-occurring mineral, borax.  Borax is well known for its anti-molding properties, which is particularly useful in mold-inducing "wet areas" such as bathrooms and kitchens.
Providing Texture:
As it is thicker, natural clay plaster has a greater potential for texture than regular paint. Paint producers have taken advantage of this property, by developing a range of clay plaster textures, including marble, suede, sponged, mica, and speckled. Applying clay texture to your walls will add depth and interest to your living space.
Practicality:
No need to strip your walls. With a quick primer, natural clay plasters can be applied directly onto just about any pre-existing surface, including wallpaper, brick, concrete, adobe, and drywall. Just be careful with glossy surfaces, as they may need a light pre-sanding. Both rollers and paint sprayers for home use should be enough to get the job done easily and effectively. And remember, natural clay plaster should be avoided on oriented strand board (OSB), ceramic tiling, and tongue-and-groove paneling.
Waste Free:
Natural clay plasters are eco-friendly in that they are waste-free. When you've completed your paint project, simply restore your leftover plaster for future patch-ups, as dried plaster can easily be rehydrated. Excess plaster can also be let out into soil, with no negative environmental effects.
Many people don't realize that they are more susceptible to airborne toxins inside of their own homes than outside among smog and fuel emissions. Just because we can easily forget about them doesn't mean paint-toxins aren't plaguing our day-to-day lives. So if you're looking to improve the look of your home, why not improve the air as well? Besides, in addition to being beneficial for your health, clay plasters are naturally practical, efficient, and eco-friendly.
Guest post by Lynn Jackson