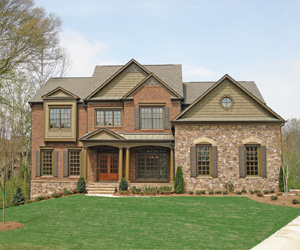 It's officially spring which means it's time for a little cleaning, and Atlanta home builder, Traton Homes, has some spring home care tips to help you get on your way.
Your home has missed out on a little TLC over the winter. While others may tell you to dust your baseboards and wash all of your curtains to give your home the love it needs, Traton Homes has some things that you should be doing to your home that you may not even be thinking about to keep it performing at its best. Below are a few suggestions.
Inspect your air conditioner: The last thing you want to do is to try to turn on the A/C on the first day that the heat has become too unbearable to keep the air off any longer and find that it's not working. Call a qualified HVAC contractor now to make sure your system is running efficiently.
Check your water heater: This is another major appliance that you don't want to go out. If your unit is older than five years, then check the bottom for any leaking or rusting. If you find any, then it's probably time to replace the unit.
Check for leaky window sills: Once you do turn on your A/C, you don't want all that cool air to leak outside. Check your window sills, door sill and thresholds for cracks, replace your weather stripping and caulk the edges.
Traton Homes is a metro Atlanta home builder that has been building quality new homes for more than 40 years.
For more information, visit http://www.TratonHomes.com.